26 Episodes
Genres: Cars/Racing Sport, Friendship, Slice of Life, Pride
DUB APPROVED! (logo coming soon...)
>>Takumi Fujiwara has delivered his father's tofu across Akina since he was in junior high. (I know, crazy, right?) Driving on the same path(s) for years, he faces several races during his summer vacation. Will his skills be unmatchable? And will he ever focus on his love life or will he be obsessed with cars and racing?<<
Be prepared to learn...
Racing techniques , like drifting
Car Vocabulary! (I only remembered just a few)
That "I Believe" is Different than "I Know It"
Honestly, the main character, Takumi reminds me so much like the main character of "Free! Iwatobi Swim Club." (review later!) I mean, they love a sport and don't care about win/losses, but they still end up winning everything. I loved his personality throughout the series... sadly, at school, he's not popular or even as known among racers in Akina..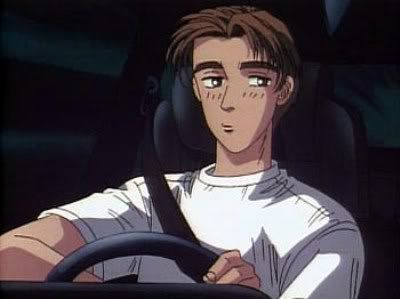 Internal Thoughts: There's no need to beg for a victory from me.
After all, it's just a race.
But... we've got a girl by his side! I switched a lot between the dubbed and subbed version , but I prefer the dub more~ Natalie/ Natsuki something...! Takumi's friend, Itsuki -Tachibana?-, thinks she's cute, but you'll see way better chicks (not like ecchi.. just more beautiful?)
In the theme songs and some racing time, the art combination is...
3D Graphics + Sketch/ Animation Backgrounds!
I couldn't accept this, but was forced to because I ended up liking these heartpumping races (seriously, the last one was scaringly tight)....
Anyway,
Let's end with the humor and romance~ I'd say the series just inserted some humor and the romance is like a side story. I'm just glad that Takumi seems to be compatible with anybody as a ... partner.
Great set of developed and developing characters... regardless if major or minor. Itsuki, man he is one heck of a best friend!!
Takumi's racing vehicle, an Eight-Six/ Trueno, has dented, motivated, and influenced its competitors, race audience, etc... Now that's a true iconic icon.
Overall, it was an escalating series~ the ending was really great ;)))
GRADE: 8.6-8.85/10
~~ Sentence: I wanna race that Eight-Six. ~~