10 Episodes - 42 mins each
Romantic Comedy, Police Procedure
Starring Nathan Fillion, Stana Katic, and others ~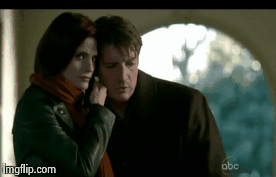 After assisting Detective Kate Beckett and her crew with two murder cases that seemed to be based off his Derrick Storm series, Richard Castle sticks around the New York Police Department while he's got writer's block and might be developing feelings for Beckett.
Nathan Fillion knows how to say and do. I read the Pilot script and all I memorized after one reading was
BECKETT : Murder.
Well, it was something like that. Now I want to be a script writer or even better, a director . It's a dream, you know? I did fear Kate Beckett a bit, seeing that she does push Castle away from cases. I'm pretty sure that she knows she's being beat up with Castle''s fast thinking. Even as an author, he's pretty smart. Now I wonder if all mystery writers are like that - Can it be?
Nathan Fillion, I'd nominate him for an Acting award, however, I had issues with Katic's acting in some episodes.
Each episode opens with the crime scene, aka The Highlighted Murder of the episode. A song plays during this scene and, depending on the song, May cause a little giggle. That's hoe music just ... gets to you.
The police procedure, most orders are requested by Beckett, are showing that there is always a sharp-minded, quick thinker in a police force . At least the orders make sense, but it seems .. really meticulous, writers.
I mean, to say that the culprit used another identity just from concluding a culprit seems like it was going to be overused (twice, in my count). This season did rewrite some ideas into Episodes 6-10.
Identify fraud ... welcomed into reality.
There are books by a fictitious character, Castle. I have yet to read them.
I liked the first five Cases. Again, 6-10 seemed like a rerun of the other cases. Are all the cases twisted? Nah, not really. If you want a taste of what you're gonna see, I made a list of what cases I remember. There might a lot of... eyes - still, dead eyes.
Woman in a dryer, frozen body, spiritual deaths, body in a wall safe, shot body covered in rose petals..
Castle seems to have the romance problems - his daughter loves him, and likewise, is bothered by her (shopaholic, fun-finding) mother, who is separated from Castle. Castle has a relationship with his publisher... oops, it's his ex-wife. So, he's single, right? Beckett.. is disturbed by her mother's death and plays with the boys in the NYPD.
WELL, it's a short season, so finish and start it anytime. I did see an episode in a later season and I liked it (okay, I was... 10) . The more promising of the series is beyond this season.
It was like "A" all over again.
The literature-based murders doesn't seem to be heavily covered. Just so ya know.
Grade : 7.5 / 10
I've noticed either I'm not watching much animes or dramas.
** MANGA, ANIME, OR DRAMA reviews? What do /you/ want to read next.
I know I'm thinking critically than ever. I have a Bloat Boat list, candies that I've thrown away from the fam, and dissing on Mexican enchiladas now.
I've also become a pesco-vegetarian who went no-carbs last week! I even set a limit for bread -- because somehow, I manage better with rice and Asian homecooked meals than a slice of 70-85 calorie [whole]wheat/grain bread. Stay fit and lively ( ^ ^ )
À demain,
K ∟